Your Journey Starts at Home
Struggling to get pregnant?
Don't know what to do next? Let's figure it out together.
We hear you. The first steps in your fertility journey can be overwhelming—Fertility House Calls is here to help.
Fertility House Calls is a program that connects you to an experienced CCRM fertility nurse so that you can ask questions and explore care options, all from the comfort of your home or wherever is most convenient for you.
2
A CCRM patient support representative will reach out to confirm your appointment and walk you through what to expect.
3
On the day of your appointment, a CCRM fertility nurse will visit you wherever you feel most comfortable—at home, the office, or even your favorite coffee shop.
With Fertility House Calls, you get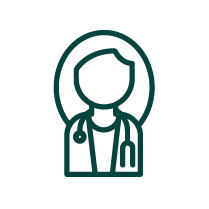 ACCESS
Connect with a trusted fertility clinic and speak with an experienced nurse, face to face.
ANSWERS
Ask questions, get personalized advice, and talk through the next steps that make sense for you.
CONVENIENCE
Forget the waiting room. An experienced nurse will come to you and meet wherever is most convenient.
Before Your Fertility House Call Appointment
Compile a List of Questions
We recommend writing down a list of questions before your appointment to ensure that you don't forget or miss your chance to ask what's on your mind. [Your Top Fertility Questions Answered!]
Prepare to Take Notes
Get a notebook or tablet to take down any instructions or details to help you process what you've learned and to remember important details.
During Your Fertility House Calls Appointment
Meet With CCRM Fertility Specialists
During your Fertility House Call, a CCRM nurse will discuss your family-building goals and describe possible next steps, including recommended fertility testing. After you speak with your nurse, you will meet with a CCRM financial advisor to discuss any insurance coverage you may have and potential out-of-pocket costs for fertility testing, as well as financing plans.
At the end of the appointment, you will have the opportunity to schedule an appointment with a member of CCRM's Patient Support Center to complete fertility testing.